Trackday at Goodwood Circuit - Saturday 10.06.22.
We have once again hired the historic Goodwood Circuit for our 2023 Classic Alfa track day on Saturday 10th June. The track will be open exclusively for our use all day from 9am until 5pm with a one-hour break for lunch.
Goodwood will be providing an instructor for the day that can be booked through us in advance or on the day. This can either be with the instructor driving a couple of laps and then a driver swap, or it can be all done from the passenger seat with you driving the full 12 minute session.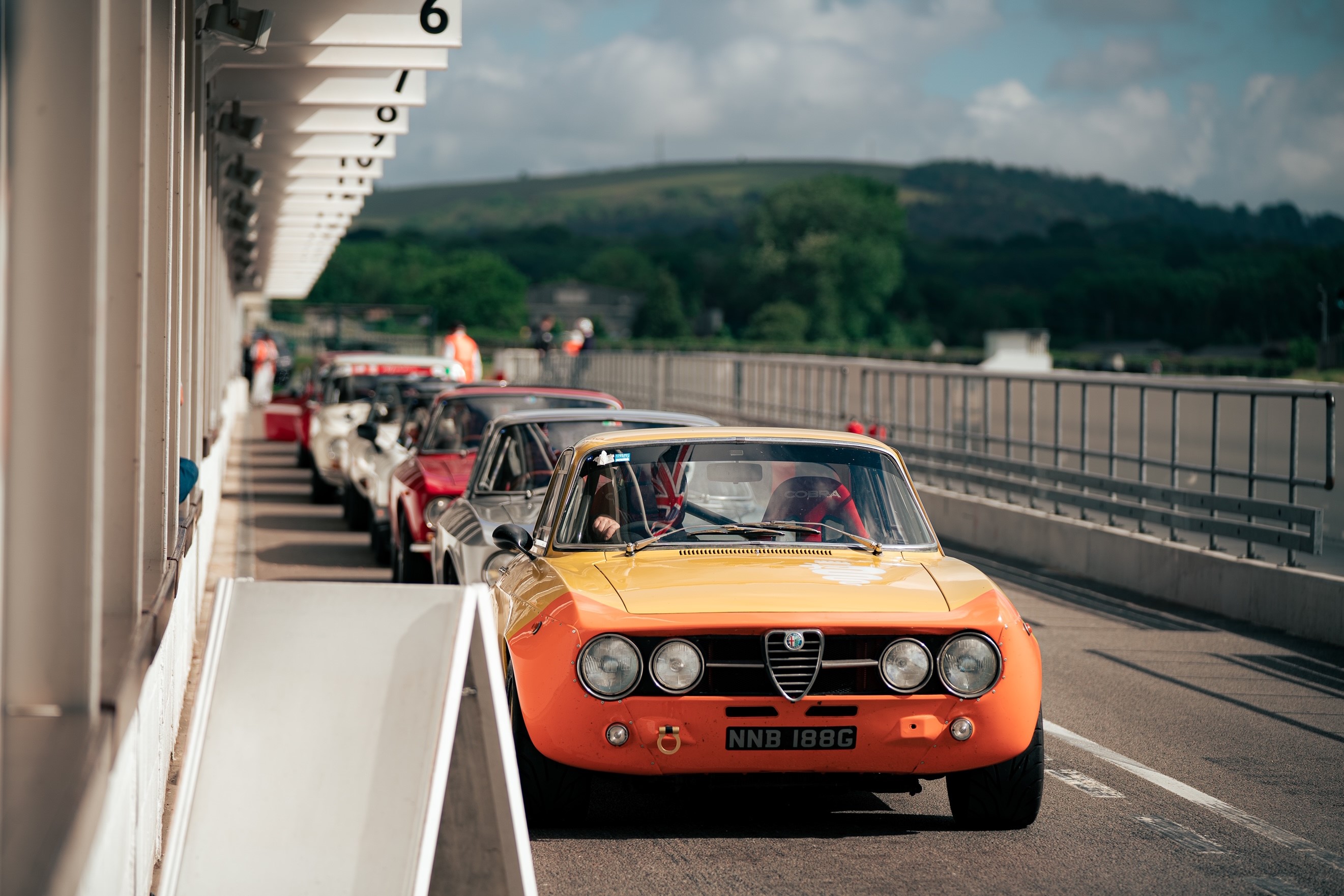 Ten cars will be on the circuit at any time ensuring more than ample track time for everyone and hardly any queuing between sessions. The ten car format track day has a 98 dB noise restriction but this is pretty loud and all standard or tuned road cars should be fine - it's the same noise level as in previous years. We have a selection of silencer "cans" available for a small hire charge on the day should your car have a loud exhaust.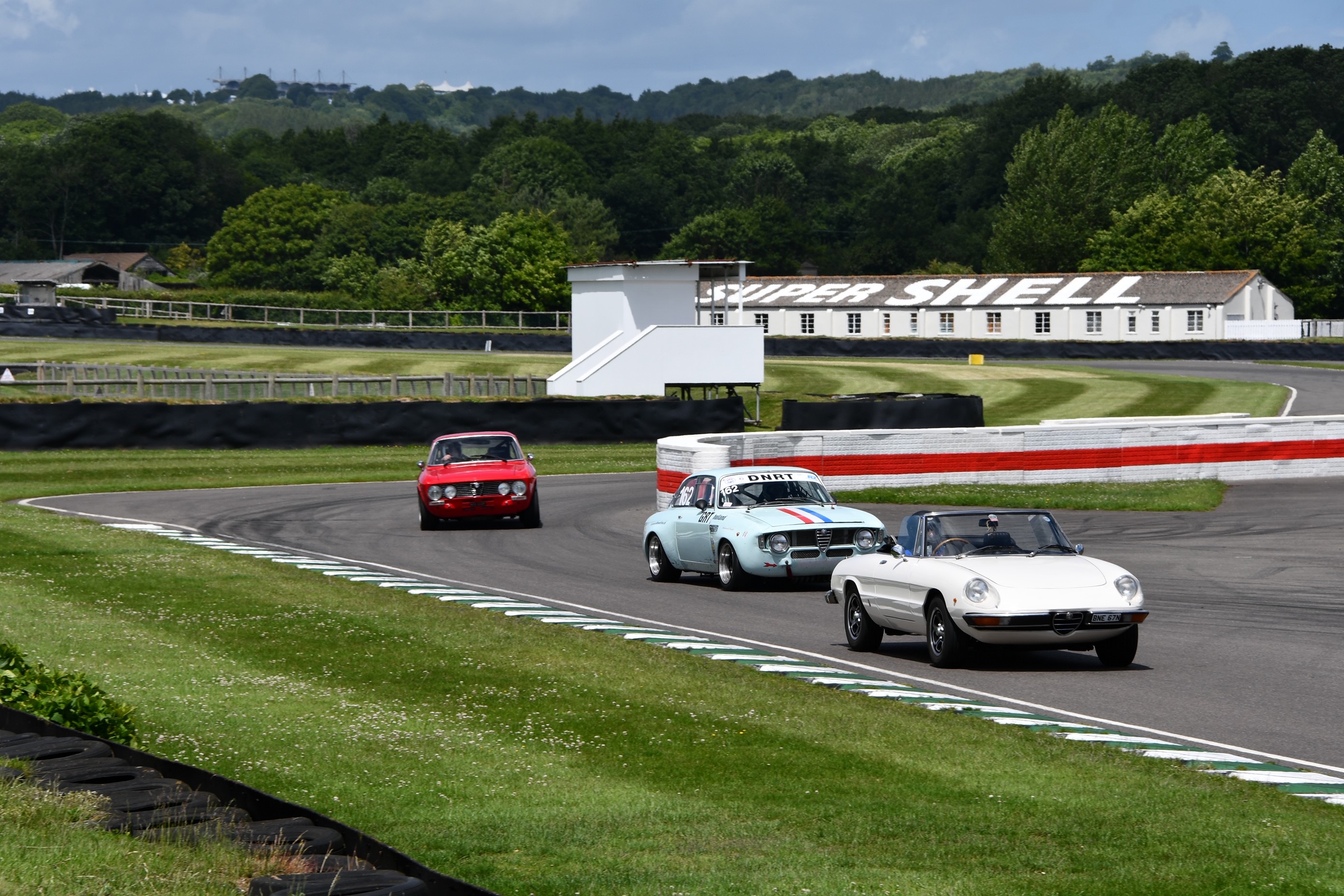 You will need to bring your driving licence, wear a long sleeved shirt and trousers so your arms and legs are covered (and no flip-flops) and also bring a helmet. If you don't possess a helmet we will have access to Goodwood's helmet cabinet so there will be a selection of helmets available free if you don't possess your own. We will need to record the helmet number to ensure it gets returned safely at the end of the event.
Spectators are more than welcome throughout the day (free entry, just turn up any time - no need to book or sign in) and the restaurant and snack van will be open the entire time. If you wish to spectate from the pit lane or go in someone's car as a passenger you need to be signed in as a spectator at either 8.00am or 10.30am. There will also be 2 free parade lapsfor anyone who turns up in an Alfa (classic or modern) at about 1.30pm allowing you to drive this historic circuit behind a Marshall's safety car.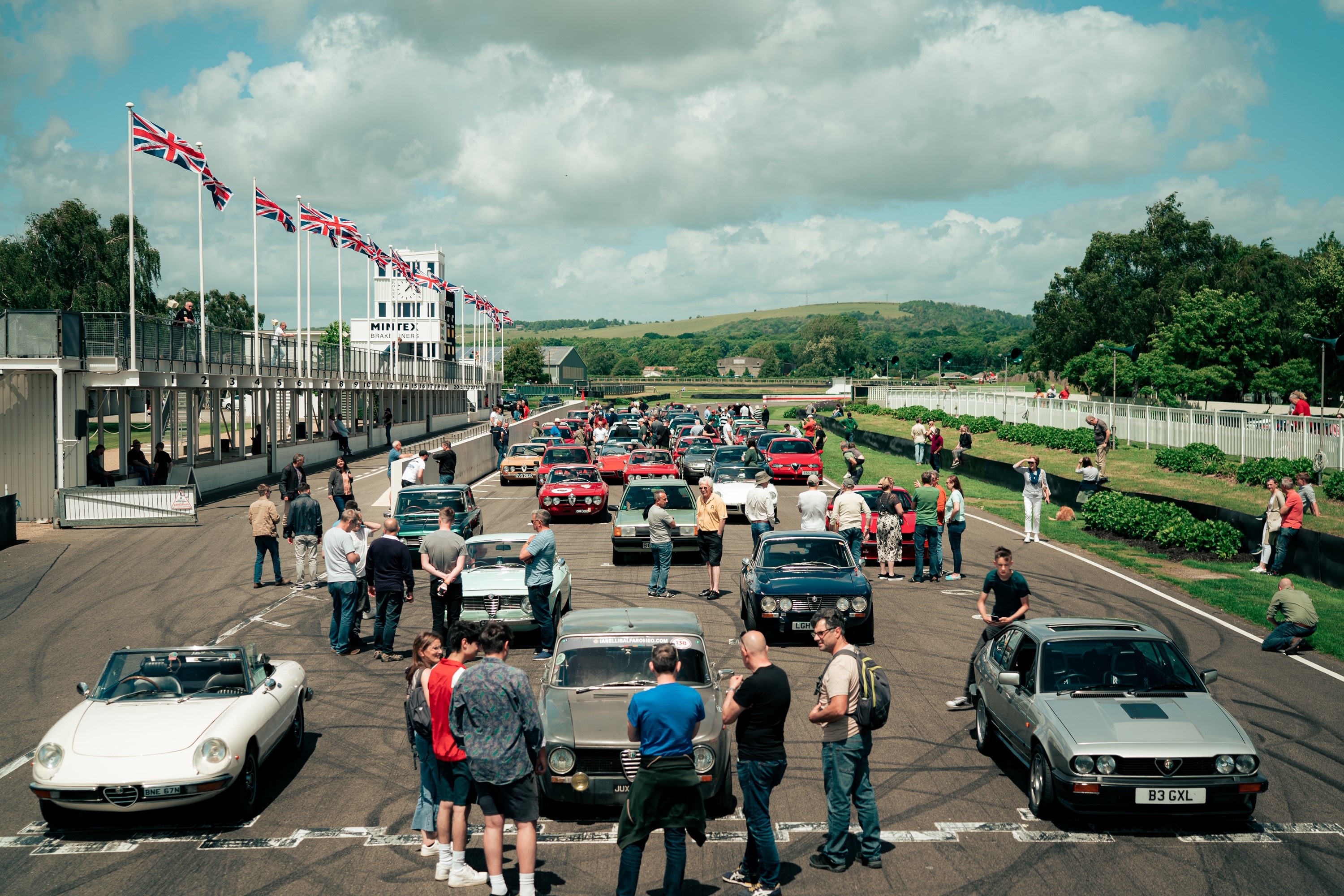 The price for one car & driver is £336 including VAT. This includes a buffet lunch plus free tea and coffee in the Jackie Stewart pavillion. The menu will be sent with your application pack. If you wish to add an additional driver, you can (with lunch included) and it costs £95 including VAT. Please note, catering is not included for passengers although this can be added for £22.50 if you contact us. To book, please contact us via email to tom@classicalfa.com. Full payment must be made in advance.
This is a great opportunity to drive Europe's last remaining truly historic motor circuit still with its original layout as driven by many of our motoring heroes in the fifties & sixties. The day is completely uncompetitive & the emphasis is on fun & safety - it's a fantastic track day whether you've done many or it's your first. Aside from the driving, it's always a great day socially and a paddock full of more than 50 classic Alfa Romeos at lunchtime is always a great meeting point.